Usually before I make a purchase, big or small, I surf the internet for hours checking for reviews, ratings and pictures. Since I rely on reviews from others so much, I thought I'd try my hand at contributing a few of my own. I'm sure this will be a regular occurance, but here are a few to start with.
Sonicare E5300
I purchased this a few weeks ago from a sale tip at
UnPlugged
,
a subsite of Apartment Therapy.
I was able to snag this for $55.00 and free shipping.

I am SO glad I invested in a power toothbrush. The first time I used it, I could immediately feel a difference in how clean my teeth felt. There is even a built in 2-minute timer (the amount of time you're supposed to spend brushing.)
The only critique I
have is that the moisture tends to seep into the space between the brush head and the handle, making it kind of narsty if you don't disassemble (easy) and clean every couple of days. Love t
his brush!



Denim of Virtue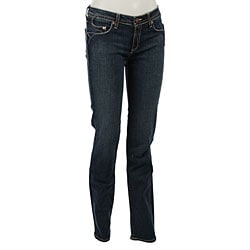 I ordered these from Overstock.com after a tip-off from my BFF Stephanie. I got the "Honest" style and I was SHOCKED when they fit me perfectly. I have a hard time finding jeans that fit right off the
rack becau
se my waist is small compared to my hips and booty. These were a normal rise with a straight leg and ultra-flattering with a pair of heels. The best part? These jeans retail for between 190$ and 200$ and I scored them for a mere 18.99$.



iPhone 3Gs



I have been admittedly covetous of this phone since they first came on the market. I really don't know how I lived without it
for so long. In order to use the iPhone I had to switch my provider from Verizon to AT&T which I was a bit nervous about at first. But I'm happy to say I've had to major problems with service, coverage, wireless access or the 3G network. The ability to use the internet and various apps without relying on Wi-Fi is an awesome feature. If you know someone with this phone, give it a test-drive and you, too, will drink the Kool-Aid. I leave you with my top-ten free apps.

1. Pandora - free internet radio, which tailors to your taste!
2. Facebook- need i say more?
3. Stanza- functions like a Kindl by allowing you to download and read books.
4. Lose it! - keeps track of your food intake, calories, and exercise
5. Twitterific - Twitter app
6. Shazam!- Hold your iPhone up to any music thats playing to identify song, artist, album and more.
7. e-Trade Mobile Pro- Perfect for keeping track of my penny stocks
8. Remote- control your iTunes (or someone else's if your wily) from your phone
9. Puri! (Lite)- very cute Puri-Kura app
10. Urbanspoon- with its slot-machine interface, get restaurant selections and reviews from your current location.